It recognizes and delivers the ability and benefits to enterprises with the ability to grow the ability and potential to grow into the world of small, medium, and medium-sized businesses.
Based on the exceptional capabilities and potential development potential, we have been selected as the first World Class 300 company in the world.
WORLD CLASS 300

What's WORLD CLASS 300 companies?
A company that boosts its growth capacity, secures future growth capacity and competitive
advantages through constant renovation and develop its control over the market while competing,
dealing and cooperating with global companies in the market with high growth potential based on
independent business relations.
Quantitative / qualitative scale

Quantitative scale
Medium-sized, established companies that overcame stagnant growth and enter full-scale growth trajectory.
Qualitative scale
Constant renovation, securing independent busines relations, high growth trend
Purpose of business

Constantly boosting vitality and growth engine of vulnerable business and creates quality jobs
by nurturing medium-sized and established companies which have a desire to develop as a global
company and growth potential into World Class 300 companies.
Business contents

Direction
Setting up a system in which a variety of support measures to nurture
established companies are taken mainly for medium-sized and established companies with high growth
potential

A center for Nurturing and Supporting Medium-sized companies serves as a single gateway of business
support such as registration of application, running a selection committee, finding the number of
applicants, follow-up and others
Contents of support
More than one are offered including R&D, funding, overseas marketing
support in which a large number of applications are registered while entering the global market.

Offering demand of government support needed to Korea Institute for Advancement of Technology,
KOTRA in alliance with different measures according to growth strategy of the company
Characteristics of World Class 300 companies
Revenue & the amount of export
Market share
The rate of R&D investment
A wide range of business
Annual average revenue is ₩17.63 billion and an annual amount of export is ₩10.5 billion
Average portion of export * 59.6% of high global market share. At this moment, trying to expand its market share with flagship in the global market


* The amount of export against revenue

An average rate of R&D investment
* Increasing investment in R&D to secure 6.1% of future core technology
* R&D costs against revenue
Many electronic components ,telecommunication corporate are included. food products, knowledge service textile, medicine and other business are also included.
The number of companies by year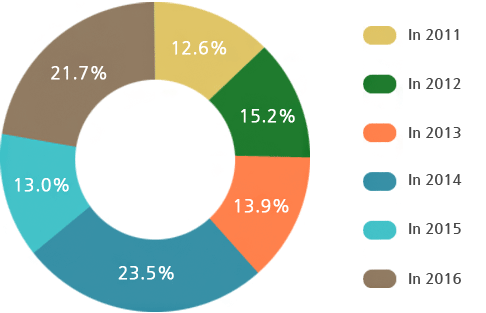 | | | |
| --- | --- | --- |
| Sortation | The number of companies | Portion |
| In 2011 | 29 | 12.6% |
| In 2012 | 35 | 15.2% |
| In 2013 | 32 | 13.9% |
| In 2014 | 54 | 23.5% |
| In 2015 | 30 | 13.0% |
| In 2016 | 50 | 21.7% |
| Total | 230 | 100% |
An average amount of export

Sortation
Selected company
in 2011
Selected company
in 2011
Selected company
in 2013
Selected company
in 2014
Selected company
in 2015
Before selection
(₩100 million)
1,858
2,104
1,914
1,550
1,065
After selection
(₩100 million)
2,256
2,549
2,118
1,607
1,175
Increase(%)
21.4%
21.2%
10.7%
3.7%
10.3%
An average amount of export

Sortation
Selected company
in 2011
Selected company
in 2012
Selected company
in 2013
Selected company
in 2014
Selected company
in 2015
Before selection
(₩100 million)
1,233
1,008
1,140
892
629
After selection
(₩100 million)
1,505
1,481
1,300
922
683
Increase(%)
22.1%
46.9%
14.0%
3.4%
8.6%